Veolia's Biothelys thermal hydrolysis
Veolia's Biothelys batch thermal hydrolysis is a complete solution for increasing the "green energy" produced from the treatment of sewage sludge and other organic sludges. The process is used to pre-treat sewage sludge prior to anaerobic digestion in order to increase biogas production by over 30 per cent, reduce the amount of sludge by up to 80 per cent, and produce a sludge in which 99.9999 per cent of pathogens have been destroyed.
What is Biothelys?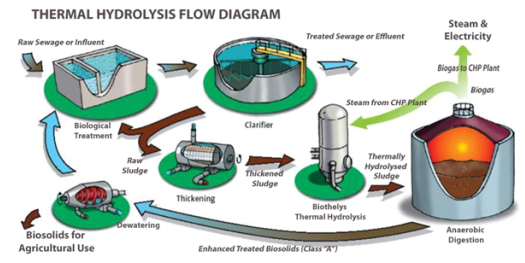 In the
Biothelys process
either primary or secondary sludges, or a mixture of both, are subjected to high temperature and pressure (i.e. approximately 165 oC and 6-8 bar) for a period of 30 minutes. This disintegrates the cellular structure of the sludge and breaks down high molecular weight organic materials into smaller molecules. It also dissolves naturally occurring cell polymers – a form of protein – into an easily digestible feed for anaerobic digestion. This results in a considerable increase in
biogas
yield.
Sludge treated by Biothelys is much less viscous than raw sludge, allowing the mass loading fed to an anaerobic digestion plant to be considerably increased. In some cases even doubling digester throughput. After digestion, the resulting biosolids material is easier to dewater, with up to 40 per cent dry solids being possible.
Advantages of Biothelys
Biothelys thermal hydrolysis has the following advantages:
Increases sludge biodegradability.
Enhanced biogas production.
Pasteurisation and stabilisation of final biosolids product.
Reduction in the quantity of sludge produced.
Reduction in final sludge volume by improving its dewatering characteristics: Up to 35 per cent after centrifuge or up to 50 per cent with a filterpress.
Reduced sludge disposal costs.
Increase in digester throughput by feeding with more sludge at up to 10 per cent dry solids.
Enhanced treated biosolids product (Class A in the USA) conforms with the UK's Safe Sludge
Matrix for use on all types of crop as a fertiliser/soil conditioner.
Applications of Biothelys
By combining Biothelys thermal hydrolysis with downstream anaerobic digestion all types of sludge, whether industrial or municipal can be treated.
Veolia was awarded a major contract to supply Biothelys thermal hydrolysis technology at Yorkshire Water's Esholt Waste Water Treatment Works. The Esholt works operated a sewage sludge incinerator for years but Yorkshire Water have chosen to adopt the more sustainable route for sludge treatment and disposal.
At Esholt, biogas will be fed to a combined heat and power (CHP) plant to produce "green" electricity and heat. The electricity will then be fed into the grid to earn Renewable Obligation Certificates (ROCs), as part of Yorkshire Water's commitment to reduce their Carbon footprint, and the waste heat is re-used.
The Esholt plant will be the largest user of Biothelys so far, with a design sludge throughput of 30,000 tonnes of dry solids per year. Digestion will generate sufficient biogas to run a 4.4 MW combined heat and power plant producing approximately 33GW of electricity annually.
"Early next year, we hope to start a £30m project which will see us make improvements to the way we treat sludge," say Yorkshire Water on their official website. "By adding a fourth digester and improving the way we treat sludge, the site will become much more environmentally friendly and help enable us to become self sufficient energy wise."
For more information visit www.veoliawatertechnologies.co.uk.
Get the latest process industry news
Interested in receiving even more industry-leading news from Process Industry Forum delivered directly to your inbox? Then sign up to our free newsletter. Bringing you the latest news, trends, innovations and opinion from across the process industry, our exclusive newsletter gives you all the industry insights of the moment in one, easy-to-digest bulletin. Stay ahead of the competition with regular process industry news instalments from PIF.