Fluid Automation Solutions for the Biofuel Industry
Biofuels or 'Renewable Energy', as opposed to fossil fuels, are increasing in importance and popularity due to environmental concern over greenhouse gases and shortages of fossil fuels.  Bio-alcohol is a very popular form of biofuel with Ethanol being the most common biofuel worldwide. For the production of ethanol in a developing industry, which includes dangerous processes such as fermentation, high quality and reliable equipment is needed in every part of the process line.
ASCO Solutions for the Biofuel Industry
ASCO Numatics has many years of success and experience offering solutions to fluid automation applications in the Biofuels Industry; specifically for controlling, measuring and treating the flow of liquid, steam and air in process piping. ASCO Numatics have expertise in providing solutions for flow control, air preparation and valve automation. ASCO's products can be applied at important points in a Biofuel plant such as at the fermentation tank, the distillation column, dehydration processes and biomethanator areas.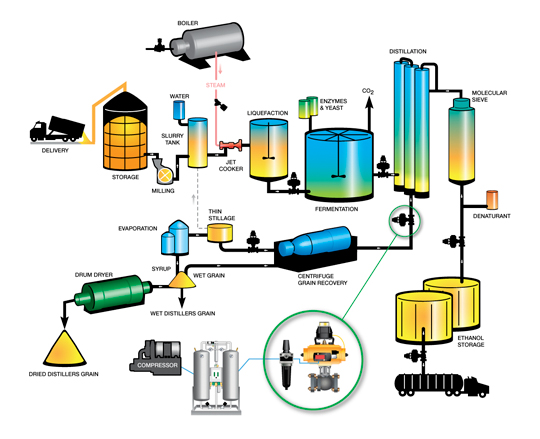 ASCO's solution would include some or all of the following products, depending on the complexity of the process.
Combustion Valves
Solenoid and electro-hydraulic shutoff valves used in burner applications, grain dryers or boiler control applications
General Purpose Solenoid Valve
Innovative technology ensures reliable operation for these process valves. They are suitable for water treatment systems, steam distribution systems and can be used as control valves for the loading of Ethanol for transportation.
Dryers
Reduce moisture in a compressed air system at the point of use or post-compressor, essential for when moisture is an issue for pneumatic process equipment. ASCO's dryers are available as regenerative and refrigerated systems
Filter Regulators & Lubricators
Used for treating air quality & pressure in a pneumatic system. Used to control pressure or meet filtration requirements for your pneumatic equipment.
Pilot Valves
Designed to meet the demands of today's commercial and industrial laundries and can be used alongside spring-return and double-acting cylinders for application such as heavy-duty washing, pressing, ironing and folding. These valves are robust and can cope with long periods of dormancy.
Air Bellows
Complement guided and non-guided rodless cylinders. Due to their high-force designs, they require less installation space than any conventional actuator.
ASCO's products are designed and selected due to their ability to meet the specific problems of the Biofuel industry; including the need for reliability, dependability, longevity and durability in products and components. One of the benefits of ASCO's approach to offering a total solution for Biofuel processes are the compatibility and reliability of the fit-for-purpose products.
Take a look at ASCO Numatic's fluid automation solutions for the Power Industry
Have you any experience with ASCO products? Let us know in the comments section or why not put any questions you have to our team of industry experts in the Solution Centre.
Company Profile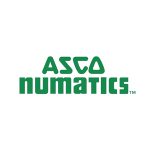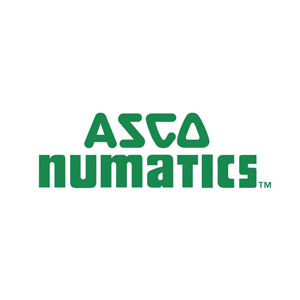 ASCO Numatics
ASCO Numatics offers comprehensive fluid automation solutions for a wide range of industry-focused applications. When combined with our deep process expertise, these solutions provide lower cost of ownership, greater asset availability, and improved productivity.
Get the latest process industry news
Interested in receiving even more industry-leading news from Process Industry Forum delivered directly to your inbox? Then sign up to our free newsletter. Bringing you the latest news, trends, innovations and opinion from across the process industry, our exclusive newsletter gives you all the industry insights of the moment in one, easy-to-digest bulletin. Stay ahead of the competition with regular process industry news instalments from PIF.