How Matara has the capability to manufacture bespoke pneumatic cylinders
Pneumatic cylinders are used throughout industry for the movement of loads, from automated compact cylinders used for very small movements through to large pneumatic cylinders with higher piston speeds and larger forces in industrial settings. Having the right cylinder for the job means the work can be done with greater accuracy, efficiency and speed. Whilst there is an array of options available off the shelf, in order to ensure the perfect solution for the job sometimes the right answer is to have it made to fit. Bespoke pneumatic cylinders are proving extremely popular for businesses who want to get ahead; we talk to Matara, who not only manufacture bespoke pneumatic cylinders, but who offer the service as a same-day option.
Why opt for a bespoke pneumatic cylinder?
With Industry 4.0 rippling through the manufacturing industry and consumers expecting customisation for more and more of the products that we buy, why wouldn't the same be true of pneumatic cylinders and the industrial plants who use them? Whether you're looking for specific overall dimensions to fit a space, a customised actuator type and length, specific mounting requirements, or for it to be manufactured from specified materials for a particular environment, Matara can work to your specification. Some of the ways in which Matara customise their bespoke pneumatic cylinders include:
Specific mounting requirements.
Unusual port locations and specifications.
Long-stroke, large bore, or unusual stroke-to-bore ratio.
Specific dimensions or configuration to operate in restricted spaces.
Specific construction materials, casing and rod coatings, or finishes
Integrated accessories like sensors, manifolds or valves.
How do Matara achieve customisation of pneumatic cylinders?
Matara have been in the pneumatic cylinder manufacture business for over 24 years, and have always offered a bespoke pneumatic cylinder option. As they have expanded and grown over that time, so have their facilities and their service offering – Matara will manufacture a customised pneumatic cylinder to ISO9001:2015 standards within 24 hours; an exceptional lead time for such a unique service – but crucial for those businesses where downtime is a critical factor.
Matara are based at Tewkesbury Business Park in a purpose-built 29,000 square-foot factory, with additional storage space to ensure the kinds of stock levels that allow them to offer their exceptional lead times on pneumatic cylinders. Their choice of brand of CNC machinery is HAAS, the world-leading manufacturer of CNC equipment that offers both speed and precision. A recent addition to the five existing CNC machines is the HAAS DS30SSY, an impressive piece of equipment providing the latest in CNC technology and enabling them to machine both ends of the pneumatic cylinder rod without needing to turn the metal. This investment allows Matara extra speed and efficiencies in manufacturing their bespoke pneumatic cylinders so that they can always meet customer demand, both in terms of design and turnaround.
Why choose Matara?
Matara have a reputation for quality, with specialist knowledge in automation, pneumatics and linear motion and a passion for customer service. Their technical expertise is unrivalled and Matara's commitment to ensuring superior products at every stage of production is evident from both their loyal customer base and their love of what they do.
Matara is a privately-owned business, with customer service at the heart of their culture – their recent investment in a new website and an e-commerce store is testament to their drive to deliver not only great products but also to ensure communication with customers is direct, straightforward and convenient. The drive to succeed and grow the business can be seen in their investments in both technology and equipment, as well as staff – the latest addition being the expansion of their CAD team.
If you are considering a bespoke pneumatic cylinder, don't hesitate; Matara will guide you through the options available and work with you to ensure that the final product far exceeds any off the shelf solution both in terms of quality and in the fit for your needs. Why not talk to Matara today; you could have your bespoke pneumatic cylinder in your hands tomorrow.
Company Profile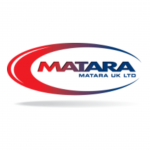 Matara UK
Matara UK are a leading manufacturer of pneumatic and linear automation products based in Gloucestershire.
Get the latest process industry news
Interested in receiving even more industry-leading news from Process Industry Forum delivered directly to your inbox? Then sign up to our free newsletter. Bringing you the latest news, trends, innovations and opinion from across the process industry, our exclusive newsletter gives you all the industry insights of the moment in one, easy-to-digest bulletin. Stay ahead of the competition with regular process industry news instalments from PIF.