Measuring the temperature of acid – Non-contact, non-invasive 'clamp on' thermometer
This article introduces the Clamp-On range of thermometer's by LABOM as a solution to measuring the temperature of challenging process media, such as hydrochloric acid. Monitoring & measuring challenging media involves non-contact or non-invasive solutions. Otherwise, safety of personnel can be compromised and expensive materials need to be specified.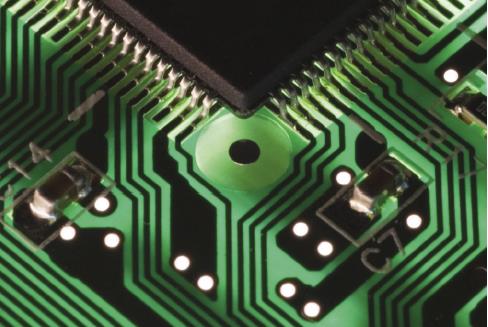 Conventional or Invasive temperature measurement
Conventional temperature measurement, where a temperature measurement probe or sensor is inserted into the process media, is not acceptable in some applications, for example when conditions are hygienic or corrosive. This article discusses the production of hydrochloric acid (commonly produced for the semi-conductor industry) and how a non-contact, non-invasive temperature measurement technology can be utilised to overcome serious application challenges.
Non-invasive temperature measurement for hydrochloric acid
The application: Measuring the temperature of hydrochloric acid produced for the semi-conductor industry.
Small integrated circuits, taking up only a few square millimetres of space on a semi-conductor base – generally referred to as a 'chip' – are used to control and regulate complex functions in many electronics applications. They are used in computers to perform billions of complex calculations per second, they are used in digital cameras to transform millions of colour impulses into a clear, crisp picture and they are used in solar cells to convert the sun's rays into energy.
To accurately cut the minute circuits on these chips, the semi-conductor industry employs an etching process using hydrochloric acid. Hydrochloric acid is a highly corrosive substance to many materials and is highly poisonous upon contact with personnel.
So, how do engineers accurately and regularly measure the temperature of this challenging process media, without posing a significant threat to personnel and without installing highly expensive devices made out of specialist materials?
The problem: Hydrochloric acid is a very expensive and dangerous media to control and measure.
High-purity hydrochloric acid is a very poisonous and corrosive acid. Hydrochloric acid can dissolve most metals, including stainless steel. The only metals hydrochloric acid cannot dissolve are very expensive precious metals, such as gold and platinum. Therefore, a device to measure the temperature of hydrochloric acid within PTFE pipes would normally have to be made out of very expensive metals, such as gold and platinum.
Furthermore, production of hydrochloric acid would have to be regularly stopped for the removal, cleaning and reinstallation of these expensive temperature measurement devices. This requirement would not only compromise application efficiency and productivity, it would also pose an additional safety hazard to personnel. Hydrochloric acid is highly poisonous on contact – even a palm-sized acid burn can be fatal!
The Solution: Non-contact, Non-invasive 'Clamp-on' temperature measurement thermometer
Clamp-on Technology
LABOM have patented their 'Clamp-on' technology', which literally means their high accuracy, fast-response temperature measurement devices can be clamped on to existing pipework.
LABOM's GA 2600 standard thermometers, consists of a PT100 resistance thermometer and a plastic sleeve that allows the thermometer to be mounted directly on the outside of a PTFE pipe.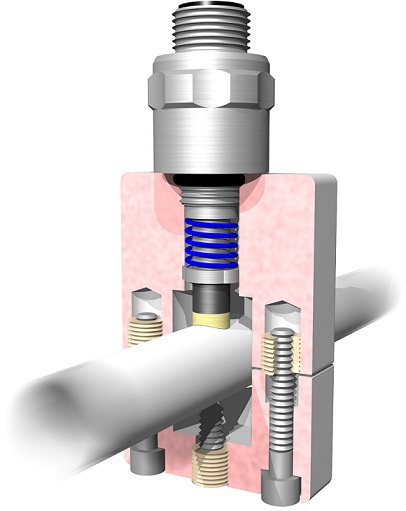 Benefits of non-invasive temperature measurement
The 'clamp-on' thermometers delivered the following benefits to the application:
Temperatures can be easily measured by an external device that is easily & quickly installed on any pipe system.
The installation is quick & easy; engineers simply have to 'clamp-on' a two-piece collar, it requires no opening of the pipe system and no welding.
The customer never has to halt the production process, thus avoiding expensive inefficiencies and potentially life-threatening contact with highly corrosive and poisonous media.
The device has a replaceable PT 100 measuring insert – there is no need to remove and reinstall the entire measuring device.
Significantly more inexpensive temperature measurement solution, compared to temperature measurement devices made out of precious metals, such as gold and platinum.
No 'dead-pockets' (inaccessible or restricted device areas such as nooks and crannies) created by conventional temperature measurement devices.
Temperature measurement solution that is easy to handle and operate – it can be retrofitted to existing systems at any time.
Does LABOM's innovative, patented 'Clamp-On' technology provide you with the solution you have been looking for in your challenging application?
If you have any questions regarding LABOM clamp-on technology, either direct your technical questions at LABOM technical experts in our Solution Centre or visit LABOM's PIF profile.
Alternatively, we would love to hear your feedback below!
Company Profile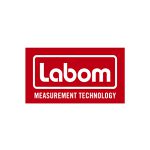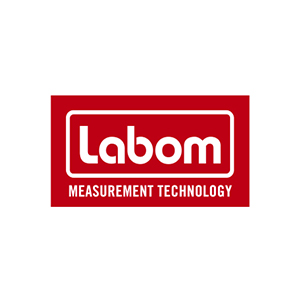 LABOM
For over 40 years LABOM has been one of the leaders in quality for industrial pressure and temperature measurement technology.
Get the latest process industry news
Interested in receiving even more industry-leading news from Process Industry Forum delivered directly to your inbox? Then sign up to our free newsletter. Bringing you the latest news, trends, innovations and opinion from across the process industry, our exclusive newsletter gives you all the industry insights of the moment in one, easy-to-digest bulletin. Stay ahead of the competition with regular process industry news instalments from PIF.