Top 10 Social Media Disasters of all Time
If you're reading this you probably know all about companies using social media, after all, you were probably attracted from one of Process Industry Forum's social media accounts. Companies use social media in different ways, some use it to promote products, others might use it to socially interact with customers. But what happens if a company gets it wrong? Mistakes can have damning effects on a companies reputation!
We've gone and found the 10 worst social media disasters of all time so that you and your company don't have to make the same social media mistakes that they did:
10. Snickers & Celebrity Endorsements
Snickers' parent company 'Mars' received numerous complaints for this advertising stunt. Many condemned the act which saw celebrities such as Glamour Model, Katie Price and Manchester United footballer, Rio Ferdinand tweet things that were extremely out of character. They then posted a picture of themselves eating a Snickers bar with the tag line 'You're not you when you're hungry!'.
A lot of Twitter users felt that they were being exploited by both the companies and the celebrities.
The advertising campaign resorted in the advertising watchdog reviewing their actions after receiving numerous complaints from angry Twitter users.
LESSON: DON'T EXPLOIT YOUR TWITTER FOLLOWING!!
9. Natwest Ignore Customers
In June 2012, Natwest's online banking system collapsed and left a lot of customers disgruntled. In many ways, Natwest did the right thing and made sure that their high street  banks extended their openings hours. However, during a crisis, research has found that companies often increase their Twitter following by up to 50%.
Many of the customers went to Twitter to voice their complaints only to hear absolutely nothing back from Natwest (Natwest are usually on the ball when it comes to replying to customers on social networks).
Natwest came under scrutiny for this and started replying to customers towards the end of the crisis.
LESSON: MAKE SURE YOU RESPOND TO NEGATIVE SOCIAL MEDIA ACTIVITY IN A POSITIVE MANNER!
8. Pizza Hut Recruiting a 'Twintern'
Continuing the trend of fast food giants dropping the ball off a cliff in the social arena, Pizza Hut decided it wanted to get into the social marketing game back in 2009. Their first instinct was to recruit someone who actually knew social media, after realizing that they didn't. How they went about seeking their Twitter Intern, or 'Twintern', however, was completely ridiculous, and demonstrated just how ignorant they were. The job posting was quoted as saying:
"The successful applicant will speak fluent OMG and LOL and correctly use the terms DM(direct message), RT(retweet), and #(hashtag)."
I think that speaks for itself.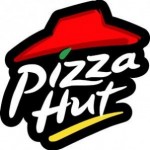 LESSON: DON'T TRY TO BE PERCEIVED AS SOMETHING YOU ARE NOT!! 
7. Odeon Viral Message
Since the introduction of Facebook's newsfeed, it is now possible for a 'wall post' to go viral and appear in your newsfeed regardless of whether or not you have them as a friend. This is all down to the amount of 'likes' that something generates creating something of a snowball effect.
In this instance, it was a post directly onto Odeon Cinema's Facebook page by an angry customer (to see the post: click here). The post generated almost 300,000 'likes' and had 25,000 people commenting on it.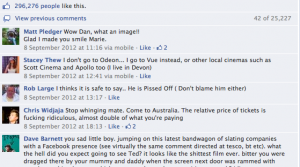 LESSON: RESPOND QUICKLY AND POSITIVELY TO ANY NEGATIVITY POSTED ONTO YOUR SOCIAL MEDIA PAGES
6. Belvedere Vodka 'Rape' Advert
Famous vodka brand Belvedere recently made a gargantuan slip up when they used the image below as part of a portfolio of images sent out during an advertising campaign online.
I don't think this specific advert went down to smoothly:
Belvedere later apologised for the image and stopped using it during the advertising campaign.
LESSON: REMEMBER THAT THINGS CAN BE PERCEIVED DIFFERENTLY BY DIFFERENT PEOPLE!
5. Kenneth Cole using 'Cairo Crisis' for Promotion
When Cairo was in crisis, Kenneth Cole, the world renowned fashion designer thought it would be appropriate to promote his latest fashion line on the back of it.
Kenneth Cole reacted to the backlash and issued an apology regarding the tweet:
"Re Egypt tweet: we weren't intending to make light of a serious situation. We understand the sensitivity of this historic moment -KC"
Obviously, the fashion designer realised that his 'joke' would upset more people than it would make laugh.
LESSON: DON'T MAKE LIGHT OF A NATIONAL DISASTER, ESPECIALLY FOR THE BENEFIT OF YOUR BUSINESS
4. Friends Reunited
Following the recent terrorist attack in the small town of Woolwich near London, Friends Reunited felt it would be appropriate to tweet out an image referring back to the days where there were no such things in such a small town. Backlash ensued and Friends Reunited were forced to make an apology ensuring that the tweet was made by someone who didn't have the permission of the management team.
LESSON: DON'T TRY AND MAKE LIGHT OF TERRORIST ATTACKS/ ENSURE YOU KNOW WHO'S TWEETING ON YOUR COMPANIES BEHALF!!
3. McDonald's #McDStories
When McDonald's launched a campaign on Twitter in which followers could tweet them their #McDStories, they thought they were onto a winner and that they would be bombarded with stories of friendship and romance.
In reality, McDonalds were forced to pull the 'promoted trend' after 2 hours. However, it can be extremely hard to stop activity in social media once it has gathered a bit of steam.
Thousands of users jumped on the #McDStories bandwagon sharing their stories, you can read some below:
LESSON: NOT ALL SOCIAL MEDIA CAMPAIGNS WILL PAY OFF, MAKE SURE YOU KEEP ON TOP OF THEM!!
2. Burger King's Unfriend Friends Burger Giveaway
Back in 2009, Burger King ran a Facebook campaign that not only violated Facebook's terms & conditions but it also meant deleting 10 of your friends on Facebook to get a free Whopper! If deleting friends on Facebook for the sake of a Burger King wasn't bad enough, Burger King decided that it would notify all the friends that have been 'sacrificed for a burger'.
The campaign was deemed a failure with only 29,000 getting involved, much less than projected. After all, it's about being social on social media and what's more unsocial than deleting your friends?!

 LESSON: TRY AND BE 'SOCIAL' WITH YOUR SOCIAL MEDIA, ENCOURAGE SHARES AND RETWEETS, NOT DELETION OF FRIENDS AND ACCOUNTS!
1. Ryanair Backlash on Facebook
When Ryanair created a Facebook page, I'm not sure if they knew what was in store for them. On the 16th August 2012, an angry passenger posted a complaint on the Facebook page of Ryanair, only 11 months later, this single post has acquired over 600,000 likes generating 31,000 comments (most of whom are agreeing with her).
Ryanair's failure to respond has left customers on Facebook in uproar. This has since rolled over into more serious matters for the company as they announced a 29% decrease in profits in the month of September 2012. It would be interesting to learn more about their 'no frills' strategy...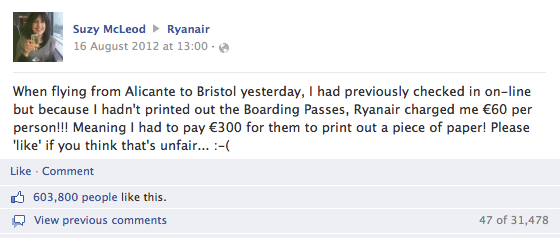 LESSON: NEVER UNDERESTIMATE THE POWER OF SOCIAL MEDIA
Did we miss anything out? Let us know in the comments sections...
Get the latest process industry news
Interested in receiving even more industry-leading news from Process Industry Forum delivered directly to your inbox? Then sign up to our free newsletter. Bringing you the latest news, trends, innovations and opinion from across the process industry, our exclusive newsletter gives you all the industry insights of the moment in one, easy-to-digest bulletin. Stay ahead of the competition with regular process industry news instalments from PIF.