Compact Compressors offer significant energy savings, silent operation and a small footprint.
Atlas Copco are leaders in compressor technology. With patented designs that can guarantee up to 50% energy savings, it is no wonder Atlas Copco were poised to show off their products at The Pump Centre Conference, the UK's leading water & wastewater exhibition.
Atlas Copco's products certainly do fit with the theme of the show - The Future of Fit For Purpose Pumping. The PIF team had the opportunity to interview Atlas Copco's Product Manager Rob Boughton about the unique & innovative products Atlas Copco have to offer to the UK water & wastewater industry.
Low pressure Rotary Screw blowers for reduced energy consumption
Specifically designed for water and wastewater applications, Atlas Copco's ZS range of high-efficiency, oil-free, rotary screw blowers are proven to reduce energy consumption up to 30%.
The standard ZS18 blower and a weather-proof ZS18+ variant, are fitted with an integrated VSD frequency converter. This feature varies the speed of the motor to match changes in the blower air demand, thus consuming only the minimum amount of energy.
Energy saving low pressure blowers
All Atlas Copco's ZS low pressure blowers integrate the proven benefits of oil-free, rotary screw technology and are designed to meet water and wastewater treatment plants' stringent requirements for greater energy-efficiency and a lower carbon footprint. ZS screw blower technology is on average 30 percent more energy efficient than the majority of conventional lobe-type, low-pressure blowers currently available on the market.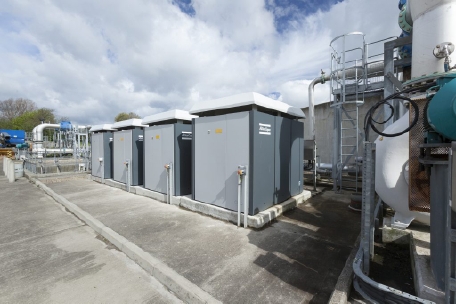 Low pressure blowers save energy in water application
The ZS Low pressure, rotary screw blowers were installed in a Northumbrian water application, replacing standard low blowers. By installing the ZS low pressure blowers, Atlas Copco reduced energy consumption onsite by 20%.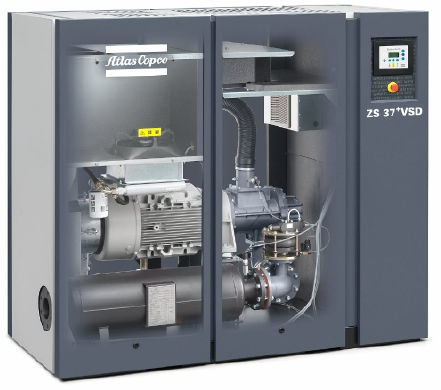 GA VSD+ Compressors for significant energy savings
Another innovative product from Atlas Copco is the GA VSD+ compressor range. Launched in 2013, this range was recently expanded to include models up to 37kW. GA VSD+ compressors provide industry-leading energy savings of 50% on average, a 13% leap in Free Air Delivery and a canopy less than half the size of traditional fixed speed compressors.
This breakthrough in energy efficiency is made possible by Atlas Copco's own 100% patented interior permanent magnet (iPM) motors which drive, and form the heart, of all GA VSD+ compressors.
The GA VSD range of compressors also offer improved performance, silent operation (down to 62 dB(A)) and a compact footprint, thanks to its vertical drive train design.
Application benefits of the GA VSD Compressor range:
Extremely reliable compressor technology: The GA VSD+ has proven its reliability during extensive field-testing. The drive train is a completely closed, oil-cooled unit that is both quiet and reliable (IP 66), even in the harshest conditions.
Exceptional energy savings: GA Variable Speed Drive+ (VSD+) technology closely follows the air demand by automatically adjusting the motor speed to match the compressed air supply to the air demand. Combined with the innovative design of the iPM (Permanent Magnet) motor (efficiency corresponding to IE4 efficiency), this results in average energy savings of 50%.
Air system integration: The GA VSD+ is compact, with a footprint that is less than half of the current GA VSD. Thanks to the silent motor and fully-enclosed drive train, this compressor runs as quietly as 62 dB(A).
Advanced control and monitoring: To maximize efficiency and reliability, the Elektronikon® controls the main drive motor and regulates system pressure within a predefined and narrow pressure band.
Company Profile
Atlas Copco Compressors
Atlas Copco Compressors is a leading manufacturer of energy efficient compressed air systems. A nationwide sales, service and distribution network means that specialist compressed air advice and service is within easy reach.
Get the latest process industry news
Interested in receiving even more industry-leading news from Process Industry Forum delivered directly to your inbox? Then sign up to our free newsletter. Bringing you the latest news, trends, innovations and opinion from across the process industry, our exclusive newsletter gives you all the industry insights of the moment in one, easy-to-digest bulletin. Stay ahead of the competition with regular process industry news instalments from PIF.