The next generation of compact electronic switches
Leading control products manufacturer, Barksdale, has announced the latest release of their Generation 3000 Series of compact electronic switches. The range currently includes electronic temperature and pressure switches (with level and flow models due out soon) that feature a 320-degree rotatable 4-digit display, multiple configurations and EMI protection.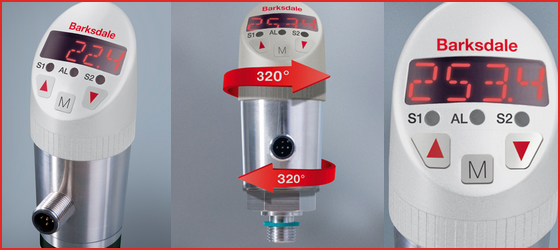 The Barksdale BTS3000 Electronic Dual Temperature Switch and Barksdale BPS3000 Dual Pressure Switches are available in three handy configurations: dual switch, dual switch with analog output (4-20 mA or 0-10 V), or single with analog output. In one compact package, you'll find either a pressure switch that combines three discrete components (dual pressure switch, pressure transducer, and digital pressure gauge) or a fully programmable temperature control device.
Setpoints and deadband are easily adjusted via a user-friendly menu where hysteresis can be set up to 125 per cent of its measuring range. Analog transducer outputs are scalable from 25 per cent to 100 per cent of the full adjustable range and, with a housing height just over four inches and a diameter well under two inches, the BTS3000 allows for tight in-cabinet installations.
The large 4-digit 14 segment LED angled display is aesthetically pleasing and allows clear readability from multiple points. Even if the unit needs to be mounted upside down, the internal software is capable of rotating its display 180 degrees. Plus, the 320-degree rotatable electrical connection and display housing makes for simpler, cheaper and more versatile installation.
Pressure & Temperature switches with EMI protection
The BTS3000 temperature switch is an ideal solution for temperature control applications requiring precision, flexibility and long life. They are commonly used in the machine tool industry, hydraulic and pneumatic systems, injection moulding machines, cooling monitoring and circuits, lubrication systems, construction machinery and the automobile industry.
The BPS3000 features robust EMI protection allowing for stable output in today's factories where EMF and high powered walkie-talkies are present. Additionally, the IP65/IP67 class rated housing makes this unit suitable for the wettest of environments, and even full submersion.
It is suitable for applications that call for precision pressure control, flexibility and extremely long life. These include in the machine tool industry, factory automation, injection moulding machines, lubrication monitoring, pumps and compressors. Pressure ranges are available from 0 to 3 psi up to 0 to 9000 psi, with absolute pressure ranges up to 150 psia.
Multiple process connections are offered as standard from ¼" NPT to 7/16" SAE just to name a few. The BPS3000 also offers transmitter functionality by supplying analogue output signals 0 to 10 V DC to 4 to 20 mA respectively. The readable range can be set during installation enabling more flexibility.
Features and benefits
Electronic Dual Temperature Switch
Measuring ranges: 0 ...100 °C to -30 ... 140 °C.
Max. 2 switch points. Analogue output 4 - 20 mA or 0 - 10 V
Rotatable 320° display & electrical connection.
Menu navigation refers to VDMA standard.
Electronic Dual Pressure Switch
Measuring range: gauge: 0 - 9000 psig, absolute: 0 - 150 psia Enclosure Rating: Type 4X (IP65) / Type 6 (IP67).
Measuring ranges: 0...0.2 bar to 0...600 bar gauge (switchable to psi + MPa)
Suitable for indoor or outdoor usage
Max. 2 switch points.
Analogue output 4 - 20 mA or 0 - 10 V
Rotatable 320° display & electrical connection
Menu navigation refers to VDMA standard
For more information about Barksdale's full range of products and services please contact 01256 799721 or visit www.barksdale.co.uk.
Company Profile
Barksdale Control Products
Barksdale is an ISO 9001 registered manufacturer of controls for industrial applications, specialising in the control and measurement of fluids. Founded in 1949, Barksdale is headquartered in Los Angeles, with a UK office in Hampshire and a manufacturing facility in Germany.
Get the latest process industry news
Interested in receiving even more industry-leading news from Process Industry Forum delivered directly to your inbox? Then sign up to our free newsletter. Bringing you the latest news, trends, innovations and opinion from across the process industry, our exclusive newsletter gives you all the industry insights of the moment in one, easy-to-digest bulletin. Stay ahead of the competition with regular process industry news instalments from PIF.