The core of your control system
In this article, PIF interviews Murrelektronik Applications Engineer, Craig Cookson, for his technical insights into the Murrelektronik power supply units that can make up the core of your control system. Here, he takes us through the power systems at the forefront of IP20 & IP67 power and the range of innovative Murrelektronik power supply products currently dominating the market.
How do you recommend the right the power supply system for a customer?
It is always about finding out how the customer currently uses their power and then providing recommendations based on how I would meet these requirements. If they need reliability and efficiency because of a critical zone, then I would always think Emparro. Do they need Emparro with inbuilt protection for field devices? Then we'd direct them to Emparro67 Hybrid. If the priority is cost savings, then we would look at Eco Rail 2.
When it comes to protection, MICO Classic and MICO Plus are the go-to recommendations because the reputation of MICO proceeds itself. Customers know that the MICO product works, as it is the only control voltage protection system that actually monitors current and reacts rather than the temperature generated by that current. MICO Pro is a modular approach to control power distribution but we suggest it only when we can prove that the modular system is a cost-effective solution. MICO on any range is adaptable, has good diagnostics and it simply works.
At Murrelektronik, we always work to provide the best solution. We aren't here to give a sales pitch. We will always recommend the product that we think suits the customer's application best.
What Murrelektronik power supply units stand out at the moment?
One of our main strengths is our power systems for use outside of the cabinet. The Emparro67 Hybrid is a very efficient IP67 power supply unit, which relocates your power supply from the cabinet and into the field with inbuilt protection. This simple change creates a lower ambient temperature within your control cabinet and allows the power supply to be closer to the devices that use it. Being as close to the device as you can, ensures that there are minimal inefficiencies when transporting the power and it is also easier to diagnose a problem in case of a failure.
Recently, we have been working with a company that supplies 24V roller conveyor systems. They were buying a lot of junction boxes in the field to achieve the same goal. This turned out to be quite expensive for them because every power supply they bought required an individual box to put it in, the labour to fit it, and the box had to be oversized due to the range of power supply used. However, they now use Emparro67 Hybrid. Even though it has slightly higher hardware costs, it is far less expensive in terms of installation and maintenance and the overall performance is to a much higher standard making the payback extremely fast for the initial cost increase.
The main target markets for the Emparro67 Hybrid are, for example, power roller conveyors, warehousing, FMCG, and anybody who has already taken the IP67 mentality with their I/O systems. Power can be distributed better, installation is improved, cable runs are shortened overall (you can work with a "Plug and Play" mentality), diagnostics are closer and you can still benefit from the Emparro standard of quality with a high efficiency of up to 94%. It also has extraordinary MTBF figures of 430,000 hours.
The inbuilt MICO protection of the Emparro67 Hybrid is one of the biggest benefits of this power supply unit. It is one of the only true current protecting power supply devices on the market. This product has so much potential for a wide range of applications.
What are the benefits of the Emparro power supply, both in and out of the cabinet? 
The rest of the Emparro power supply range guarantees high efficiency and high reliability as panel mounted power supply units. What sets Emparro apart from other competitors with high efficiency is that when we say up to 95% efficiency, we mean that each product in the Emparro range has an efficiency between 92 to 95% for any current and any voltage. Murrelektronik has some of the best efficiencies on the market, hands down.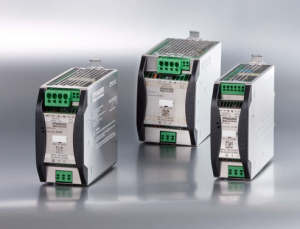 It also has the best over boost, with up to 150% for up to five seconds and 120% continuously from then on. We always over-engineer the product, so you can run it 20% harder if necessary, without the need for a second device.
We have 5, 10 and 20 amp in single phase and the same up to 40 amp in 3 phase. The lowest MTBF for the 3 phase is 950,000 hours and it boasts some of the highest reliability on the entire market (or for everything I've ever worked on anyway!). Our customers' customers don't need to worry about maintenance as our 40A 3 phase unit has a built-in, intelligent feature that not only tells you when it is seeing a fault, it calculates when it may need replacing. It is adaptive and therefore understands when it will need replacing, based on the number of hours it should run for and the percentage it has been running at. This algorithm covers you for possible failures so you have a replacement on the shelf ready to go.
There are other accessories that bolster the Emparro power supply range. One example is ACCUcontrol, which is a UPS module that functions with maintenance in mind. The ACCUcontrol actively monitors battery life and flags up problems rather than waiting for a problem to occur so you can guarantee the uptime your UPS provides.
How is Eco rail 2 different to other power supply units?
Eco Rail 2 is the lower cost power supply option. This product has a good efficiency of up to 90%. When compared to other standard market products, this power supply is basic and yet it features all the essential elements like inbuilt short circuit and overload protection. The MTBF for the Eco Rail is over 50,000 hours, which gives your application nearly six years of reliable performance even in our budget end of the spectrum. With adjustable power supply up to 28V, the voltage will meet your exact needs.
How is the MICO range different?
MICO comes in a variety of flavours. What sets MICO apart from everything else is that it measures the current used rather than measuring the temperature of the components. This means that it doesn't suffer from the temperatures of other units surrounding it. MICO is like constantly having an engineer sat with his ammeter, watching what's going on and stopping it when it needs to be stopped.
Firstly, we have the MICO basic which is great for companies moving from a fuse-based system to a resettable current protection device. MICO basic is an entry-level, simple system that is a fixed channel in a variety of current ratings. It is also a space-saving solution with current protection compared with banks of fused terminals.
We then have MICO Classic, which is our first range of devices in the MICO brand that has adjustable current settings. An adjustable power supply means you can change the current settings to meet your needs as seen on site so for a commissioning engineer it is a must-have. It's all well and good planning for one channel to need 2 amps but, in my experience, being able to increase or decrease your protection rating to what you need from what you are seeing, is a massive advantage.
MICO Plus is the next step from MICO Classic with a few features added on. The additional features of the Plus allow you to not only get the diagnostics back from the unit but also give you the ability to enable and disable the unit or reset it remotely. This means there is no need to open the panel to reset a nuisance trip or to keep the machine going until the end of a run when the cause can be diagnosed.
What can you tell us about the modular power supply, MICO Pro?
Our MICO Pro range takes a modular approach to current protection. What this means is that, as a system, you can expand the rack as needed. It is definitely better for a larger system because with the MICO Pro you only pay for the input terminal once per system. The modular power supply is a cost-effective solution for large systems, suited exactly as you need it.
The module options we have are varied. Choose from a single channel fixed between 2 and 16 amps, 2 channel between 2 and 6 amps and 4 channel between 2 and 6 amps. However, the best modules we have are the flexible modules, where you can change the current as needed for the job. These are available in 1 to 4 channels and at 1 to 10 amps or 11 to 20 amps.
There is also a very useful extra accessory that replaces the need for huge banks of terminals in the panel. So, again, we are always thinking about saving space for the customer. These are integrated terminal banks for both 0 and 24 volts. According to a recent study carried out by Murrelektronik, you can save up to 80% of terminal space by using MICO Pro for larger systems as opposed to standard, older protection methods.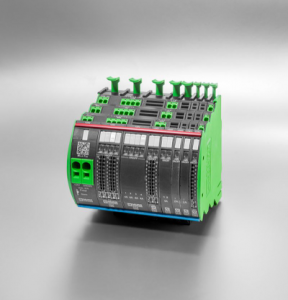 And finally, what about the power supply for the classically minded panel builder?
For the classically minded panel builder, we also have transformers. They have a high degree of accuracy and very good reliability. For our core range, they always have IP20 cage clamp terminals. This means that they are vibration proof, lower maintenance and easy to install. At Murrelektronik, transformers are built to extreme accuracy which means they are fully efficient when running at capacity and there is a benefit to not building in a 10% contingency which is common practice when using transformers.
For more information regarding any of the Murrelektronik power supply range, contact their team today. Craig is on hand to find you the right power supply for the core of your control system.
Company Profile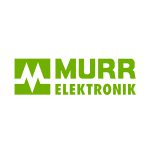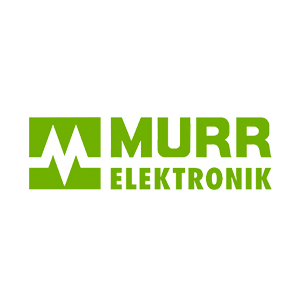 Murrelektronik Ltd
Stay connected with Murrelektronik. Murrelektronik is the UK arm of the world leading Murrelektronik GmbH, supplying connection technology to the engineering industry.
Get the latest process industry news
Interested in receiving even more industry-leading news from Process Industry Forum delivered directly to your inbox? Then sign up to our free newsletter. Bringing you the latest news, trends, innovations and opinion from across the process industry, our exclusive newsletter gives you all the industry insights of the moment in one, easy-to-digest bulletin. Stay ahead of the competition with regular process industry news instalments from PIF.