Restoring damaged or weathered rubber seals
The experts at Martin's Rubber understand how difficult it can be to restore rubber, whether this is due to heavy usage, incorrect specification, or design for the application in question, or even the gradual degrading effect of weather, so PIF spoke to Martin's Rubber about how to restore rubber products to extend their shelf-life.
"Rubber, like many organic materials, have a definite shelf-life that varies dependent on the type of rubber, and external factors that can speed up the deterioration process", explains Claire Clarke of Martin's Rubber. Over time rubber parts deteriorate, until this eventually leads to the total failure of the rubber part which can, in turn, lead to potentially catastrophic consequences.
"Depending on the environment, this could mean a minor inconvenience, or become a seriously catastrophic event", claims Claire.
Martin's Rubber recommends rubber restoring techniques that, when used in conjunction with proper maintenance, can bring your rubber products from the brink of failure and be restored to full functionality.
What items do I need to restore rubber products?
"You can't do a good job without the right tools! When restoring rubber seals, you can often get very good results by using a combination of easy to find household items - alongside a few specialist products", says Claire. She goes on to explain that dependent on the extent of the restoration, you will need some or all of these:
A dry cotton cloth
A small bristle brush
Abrasive file
Coarse and fine graded Emery or Aluminium Oxide sanding cloth
Diluted bleach (3 measure of water to every 1 of bleach), or a mild soap
Protective gloves
Protective floor coverings
Almond oil
Rubber solvent (we recommend Turpentine based products)
A rubber condition (such as Sonar, Wurth, Meguiars)
Cooking pot or saucepan (but you will not want to use this for cooking afterwards, so use an old one)
Tongs
Claire from Martin's Rubber explains a step-by-step process on how to restore your rubber products.
Step 1 - Preparation
First things first, clear off any debris from the item you want to restore, including any paraffin wax that may have leached out of the rubber, using the rubber solvent.
Step 2 - Scrub and Clean
Next, it's a good idea to give the rubber seal a really good scrub to clean off excess dirt and prevent future wear and tear. For a lighter level of dirt, use warm water and mild soap. For heavier levels of dirt, mould or mildew, use the diluted bleach mix.
Step 3 - Rubber Conditioner
Using a different cloth to the one used earlier, rub the rubber conditioner thoroughly into the seal. Once it has been worked in and the rubber is completely saturated, wipe off the excess.
Step 4 - Remove damaged parts
Removing too much of the rubber seal will render it completely useless! But if the rubber seal isn't heavily damaged, with just a few scuffs and minimal damage, it would be beneficial to use a file or abrasive emery cloth to generally buff off the damaged areas of rubber. Once you've removed the damaged sections, reapply the rubber conditioner for additional protection.
"If you only need to restore smaller, lightly weathered rubber seals, boil some water in the saucepan, add a small amount of soap and submerge the seal", suggests Claire. She goes on to explain, "remove the seal using tongs and test its flexibility and condition every 5 minutes or so." Using this method, the time taken to restore rubber can vary depending on the item, but it can be just as effective and much less labour intensive than the previous method.
Martin's Rubber are experts at rubber manufacture, maintenance and development. Their hands-on technical expertise and flexibility at all stages of development, testing and manufacture ensure that Martin's Rubber can consistently meet and exceed customer expectations. For more information, head over to their website.
Company Profile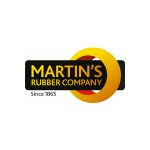 Martins Rubber Company
Martins Rubber are a rubber manufacturer who specialise in the production and supply of elastomeric products.
Get the latest process industry news
Interested in receiving even more industry-leading news from Process Industry Forum delivered directly to your inbox? Then sign up to our free newsletter. Bringing you the latest news, trends, innovations and opinion from across the process industry, our exclusive newsletter gives you all the industry insights of the moment in one, easy-to-digest bulletin. Stay ahead of the competition with regular process industry news instalments from PIF.