Martin's Rubber explain their 3-step manufacturing process
Rubber is a material that is widely used across industry. When standard parts just won't do, and a bespoke rubber solution is needed, Martin's Rubber Company has the specialist knowledge and expertise to deliver the goods. In this article, PIF spoke to Adam Hooper, Operations Director at Martin's Rubber, to find out more about their three-step manufacturing process.

Step 1: Understanding the customer's needs
The first step for any industrial rubber supplies company is for the customer to submit a drawing, sample, or CAD model. "The customer will say 'we want to buy this' and 'can we have a quote for the product we've drawn?' Or, quite often, they don't actually know quite what they want," says Adam Hooper, Operations Director. Martin's Rubber often consults with customers about what type of application the product will be used in, what kind of materials would be most suitable for that particular application and how the product should be designed to maximise performance.
One of Martin's Rubber's primary objectives as an industrial rubber company is to understand and manage customer expectations. Adam continues: "We have to make sure the customers themselves understand their own expectations and what they are actually able to achieve, and match that against what is practical." The company ascertains whether the customer is price-driven (high volume), performance-driven (e.g. safety critical), or anywhere in between. At this point, the customer's true expectations are established before proceeding further.
Step 2: Refining and prototyping
After having established customers' expectations, Martin's Rubber then helps to refine any designs and choice of materials. "If they're not quite sure about the design, we can look at how it's going to perform," says Adam. "We have the ability to offer finite element analysis of a customer's design by looking at dynamically modelling how the product is going to perform under certain stresses and strains." This stage in itself significantly reduces the amount of perceived risk, from a customer's perspective.
In order to conduct the analysis, it is essential to have a precise characterisation of the rubber that will be used. In cases where customers may prefer to proof a design, Martin's Rubber provides customers with the option of creating prototype parts. In cases like this, a small pre-production batch may be manufactured from a low-volume tool. However, Martin's Rubber is currently exploring more innovative processes including 3D printing to help manufacture parts using real rubber.
Step 3: Full production
Once the design has been finalised and tested, Martin's Rubber then moves on to full production, tooling and producing parts. "We have a very wide range of customers with varying amounts of expertise," says Adam. "On one end of the spectrum, we have Formula 1 teams that know exactly what they want and have a full understanding of the materials they require, whilst providing us with accurate 3D files and 2D drawings. On the other end, we encounter customers who are not completely sure as to which products they require, but they accept that their current product is not working."
Given that a wide range of customers and industries access the business' industrial rubber supplies, it is up to Martin's Rubber's experienced experts to be able to interpret customers' requirements well. "We use any of the thermoset materials in our rubber mouldings," says Adam. "That's everything from traditional natural rubbers, which still comes out of a tree, all the way through to the very high-end perfluoroelastomers that are very high performance materials, difficult to work with and hugely expensive." As compound costs can vary from £3 a kilo up to more than £1000 a kilo, Martin's Rubber's guidance through the material selection process can ultimately make a huge difference to the bottom line for many customers.
Contact Martin's Rubber Company today on 023 8022 6330, or email [email protected], for more information about all their rubber manufacturing services and products.
Company Profile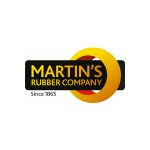 Martins Rubber Company
Martins Rubber are a rubber manufacturer who specialise in the production and supply of elastomeric products.
Get the latest process industry news
Interested in receiving even more industry-leading news from Process Industry Forum delivered directly to your inbox? Then sign up to our free newsletter. Bringing you the latest news, trends, innovations and opinion from across the process industry, our exclusive newsletter gives you all the industry insights of the moment in one, easy-to-digest bulletin. Stay ahead of the competition with regular process industry news instalments from PIF.