Making rubber mouldings more renewable
When you think of sustainable materials, rubber might not spring to mind. After all, the vulcanisation process renders renewable natural rubber a non-renewable commodity, and synthetic rubber is made from finite petrochemicals. But innovators like Martin's Rubber, Flinders University and Goodyear are finding novel ways to make rubber mouldings products greener.
Has traditional vulcanisation had its day?
Writing in Tire Technology International, Ali Ansarifar, a retired senior lecturer at Loughborough University's materials department, recently suggested that the time was right to move away from Charles Goodyear's vulcanisation process of using sulphur and adopting altogether more environmentally friendly alternatives.
"The traditional methods of sulfur [sic] vulcanization using so many chemicals and rubber reinforcement by harmful and expensive solid fillers have served us well in the past but it is time to leave traditions behind and embrace a more environmentally friendly approach to the use of chemical additives in rubber formulation," wrote Ansarifar.
His argument revolves around the fact that technology has moved on since Goodyear accidentally discovered vulcanisation back in 1839, citing mineral fillers as a possible alternative to chemical curatives. This re-opens the wider discussion of how to make rubber manufacturing and moulding an eco-friendlier process.
Cleaner, greener, recyclable rubber
Much of the rubber industry is acutely aware of its environmental responsibilities and actively pursues ways to reduce its carbon footprint. The global rubber industry is focussed on new and innovative methods of developing cleaner, greener, recyclable rubber mouldings and critical components.
The following three pioneers are going the extra mile to make rubber products more sustainable.
Goodyear
Where better to start than with the company named after the godfather of rubber himself? Because Goodyear has devised a clever way to curb waste with a tyre that can self-regenerate. The reCharge tyre employs a pressurised cartridge filled with liquified, biodegradable tire compound. When the tread wears down, the compound is automatically fed through an in-built mould and solidifies when oxidised.
Sadly, Goodyear's reCharge idea is still very much a concept at this stage but does give an intriguing glimpse into the future of tyre manufacturing. For instance, as well as the ability to replenish their own tread, reCharge tyres could also be fitted with sensors that would analyse the driving style and braking patterns of a driver to ascertain the best compound for their needs. Clever stuff indeed.
Martin's Rubber Company
Rubber is notoriously difficult to recycle. Goodyear's vulcanisation process effectively sets the bonds of thermoset rubber, making it nigh on impossible to repurpose. With more than 150 years of rubber engineering experience to their name, Martin's Rubber Company is better placed than anyone to find a workable solution to this age-old problem. Which they have in the shape of their Remould™ rubber recycling process.
The Southampton-based rubber moulding expert's Remould™ technology allows them to de-vulcanise rubber products and re-vulcanise them alongside virgin rubber to form new bonds. That means they can breathe new life into decommissioned rubber and transform it into brand-new products, which are branded under their Envirolast banner of eco-friendly rubber mouldings. Talk about breaking the mould!
Flinders University
Australian scientists at Flinders University could have solved not one, but two environmental issues in one fell swoop with the discovery of a remarkable new rubber polymer. Made from sulphur and canola oil, the new polymer can be compressed and heated with fillers to make the construction materials of the future. This binding solution paves the way for "green" bricks constructed from recycled PVC, waste plant fibres or sand.
Not only have they found a novel new way to recycle otherwise unsustainable materials like PVC and carbon fibre, but the resulting rubber mouldings made from the new composites can themselves be repeatedly ground up and recycled – making them 100% multi-use by design. The Flinders researchers believe their recycling method could one day replace non-recyclable construction materials, bricks and even concrete.
How we make and use rubber is changing. For the time being, Goodyear's traditional vulcanisation process still very much has its place. But it's reassuring to know that there are innovators like these companies and institutions who are developing sustainable new materials, technology and rubber mouldings that make the natural life of rubber stretch that little bit further.
Company Profile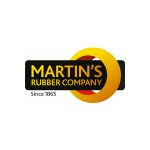 Martins Rubber Company
Martins Rubber are a rubber manufacturer who specialise in the production and supply of elastomeric products.
Get the latest process industry news
Interested in receiving even more industry-leading news from Process Industry Forum delivered directly to your inbox? Then sign up to our free newsletter. Bringing you the latest news, trends, innovations and opinion from across the process industry, our exclusive newsletter gives you all the industry insights of the moment in one, easy-to-digest bulletin. Stay ahead of the competition with regular process industry news instalments from PIF.