The Big Bang Fair aims to boost rising engineering apprenticeships
Over the course of National Apprenticeship Week, the world of engineering came out to encourage more young people to think about joining the engineering workforce through an apprenticeship. The Big Bang Fair played its part in getting youngsters excited about STEM subjects. While fresh new figures revealed that engineering apprenticeships are on the rise.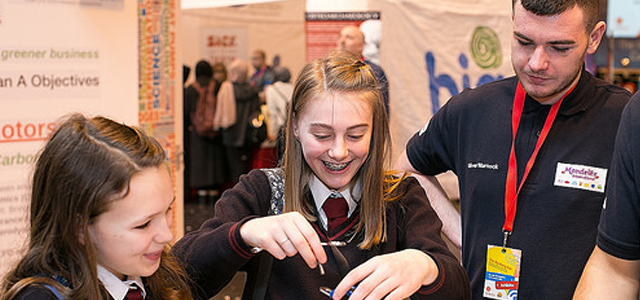 National Apprenticeship Week (14 to 18 March), is co-ordinated by the National Apprenticeship Service and is designed to celebrate apprenticeships and the positive impact they have on individuals, businesses and the wider economy. The key theme of this year's week was "An apprenticeship can take you anywhere", with a particular focus on higher skills to show how young people, entrepreneurs and businesses can "rise to the top" through traineeships and apprenticeships.
The Big Bang UK Young Scientists & Engineers Fair
Unfolding over the week was The Big Bang UK Young Scientists & Engineers Fair, which is the largest celebration of science, technology, engineering and maths (STEM) for young people in the UK. Held at the NEC, Birmingham 16-19 March 2016, The Big Bang Fair is an award-winning combination of exciting theatre shows, interactive workshops and exhibits, as well careers information from STEM professionals.
The message coming out of the Big Bang Fair was that more than half of UK jobs are reliant on the engineering industry. The Fair showcased career opportunities to young people, with top UK companies on hand to encourage more young people to work in STEM industries, in a bid to bridge the skills gap and boost productivity. Some of the nation's largest firms, including BAE Systems, GSK, National Grid, Rolls Royce, Shell and Siemens, were there to inspire future talent, hot on the heels of a government announcement that a record £26.3bn will be pumped into UK science.
Figures from the Engineering UK 2016 report reveal that engineering is 68% more productive than the retail and wholesale sector. While 14.5 million jobs are supported by the engineering industry (55% of all UK employment). And over the past ten years, engineering-related apprentices alone have generated £12bn for the UK economy.
Engineering apprenticeships continue to rise
Sticking with apprenticeships, according to figures from SJD Accountancy the number of
engineering apprenticeships
continues to rise. Their data, derived from the Skills Funding Agency, show that the number of engineering apprenticeships has increased by 14.2%, from 64,830 in 2013/14 to 74,060 in 2014/15. Furthermore, 2014/15 enrolments were 6.2% higher than the previous peak in 2011/12, when 69,730 people began engineering apprenticeships.
Separate research by CV-Library also suggests that engineering apprenticeships are the most valued across all sectors. Their survey of more than 2,000 employees revealed that a whopping 53.6% of engineering professionals had completed an apprenticeship, compared to the national average of 21.8%. Of those, 92.3% agreed that their training kick-started their career and 93.8% said apprentices are the key to filling the industry's skills gap.
Apprenticeships can tackle engineering's skills shortage
"Apprenticeships are extremely valuable for engineering workers and employers – the skills acquired during these schemes can shape a career and also help tackle the industry's skills shortage," said Lee Biggins, founder and managing director of CV-Library, in a statement.
However, it seems that this opportunity is being underutilised within the sector – while government funding is on its way via the apprenticeship levy, it's clear that there is a broader issue at play. The data shows that not enough is being done by the government to raise awareness for apprenticeships and more support is needed for both engineering businesses and apprentices themselves.
"Ultimately, apprentices could plug the engineering sector skills gap if younger workers are educated on the value of apprenticeships and more is done to raise awareness and support," he added.
Get the latest process industry news
Interested in receiving even more industry-leading news from Process Industry Forum delivered directly to your inbox? Then sign up to our free newsletter. Bringing you the latest news, trends, innovations and opinion from across the process industry, our exclusive newsletter gives you all the industry insights of the moment in one, easy-to-digest bulletin. Stay ahead of the competition with regular process industry news instalments from PIF.