Welsh Water Treatment Works' taps into Mitsubishi Electric Technology to upgrade control system
When Dwr Cymru Welsh Water needed a complete overhaul of its Nantybwch Water Treatment Works in South Wales, they turned to Mitsubishi Electric Technology to ensure that the upgrades went ahead without disrupting supply to 70,000 local customers.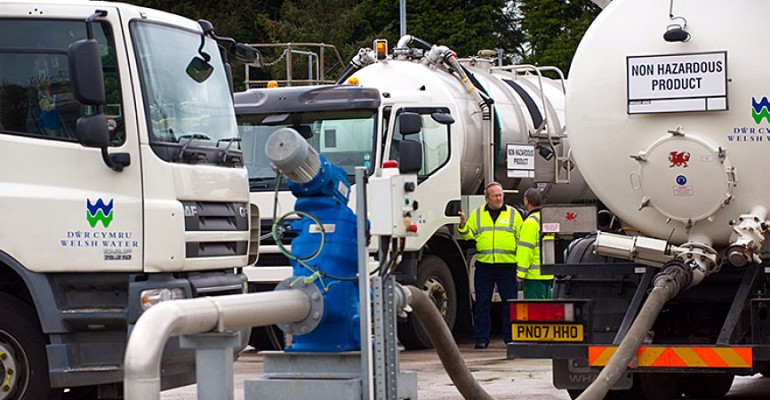 Since 1993, Dwr Cymru Welsh Water's (DCWW) Nantybwch Water Treatment Works (WTW) has supplied potable water to Ebbw Vale, Tredegar and Bargoed in the South Wales county of Blaenau Gwent. When work began to upgrade the works' ageing control system, state-of-the-art Mitsubishi Electric technology was selected to bring things up to the twenty first century.
Mitsubishi Electric programmable logic controllers (PLCs)
The final design for Nantybwch's system consisted of two pairs of redundant Mitsubishi Electric Q25 programmable logic controllers (PLCs) in the main works and a Q06 PLC in the pumping station. The redundant systems comprise two central processor units (CPUs) and a mixture of traditional I/O and remote I/O. The latter connects to various different networks, using fibre optic MELSECNet/ H with some and Profibus with others.
"The mixture of technologies used for the remote I/O solutions demonstrates the flexibility and versatility of the Mitsubishi Electric Q Series product," says Neil MacDonald, Managing Director of Oasis Software Solutions, a Monmouth-based framework system integrator that was brought in to help with design, installation and commissioning.
"Where the system required low density I/O and a Profibus network already in place to interface a number of drives, a slice I/O solution was deployed. For critical areas of the process, a redundant MELSECNET/H solution was provided with the capability of utilising high density I/O modules, connected to a high speed, high integrity, fibre optic network," MacDonald continues.
A fibre optic Ethernet ring was installed to provide peer to peer PLC communications and SCADA networking, offering a modern, future proof interface adhering to the DCWW AS427 Industrial Network Communications standard
PLCs that offer a high level of system redundancy
The functionality of Mitsubishi Electric Q Series PLCs makes them suitable for a wide range of applications across the industrial landscape. The attraction for the utilities sector in particular is their high levels of system redundancy, which make process interruptions from power or system failures a thing of the past. Fully redundant architecture duplicates processors and network links, while hot-swap provides operational levels of redundancy.
System failure and interruptions are avoided thanks in large to the dual redundant CPUs (control and standby) that cause immediate transfer of control to the backup should the control CPU fail. An impressive synchronisation of up to 100,000 words of process data is attainable between CPUs per scan.
A 'bumpless' transfer is also guaranteed, thanks to a switchover time that is typically around 20–40ms. With the CPUs residing on separate racks, the control CPU can be replaced while the backup keeps the system operating. Purchase cost and total cost of ownership can also be better controlled, thanks to the interchangeability of parts with standard Q Series systems.
Work began in summer 2013 and the plant was running entirely on the new system by mid-March 2014. "There is a lot of satisfaction knowing that we have played a part in the regeneration of the regional economy of the Heads of the Valleys," concludes MacDonald.
Company Profile
Mitsubishi Electric Europe
As the UK arm of one of the world's leading manufacturing companies, Mitsubishi Electric has been supplying automation products and solutions to the UK for over 35 years.
Get the latest process industry news
Interested in receiving even more industry-leading news from Process Industry Forum delivered directly to your inbox? Then sign up to our free newsletter. Bringing you the latest news, trends, innovations and opinion from across the process industry, our exclusive newsletter gives you all the industry insights of the moment in one, easy-to-digest bulletin. Stay ahead of the competition with regular process industry news instalments from PIF.