When to use Back Pressure Regulators
As many of you are aware, there are various types of pressure and vacuum regulators from high pressure and compressed to precision and stainless steel.
A key product to many industries is the back pressure regulator. But what is it, how does it work, when is it the most effective and why?
What is a back pressure regulator?
A pressure reducing regulator is a device which reduces a high source pressure to a lower working pressure that makes it much more suitable for a user to use.
The regulator attempts to maintain the outlet pressure within acceptable limits as other conditions, such as gas or liquid vary, and the accuracy and efficiency is determined by the combination of basic regulator elements.
There are 3 basic regulator elements that are common to all pressure regulators, regardless of the manufacturer.
Now a back pressure regulator has the special function to limit and precisely control the upstream pressure of a gas or liquid, such as from a tank or pump.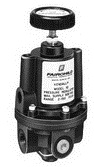 How do back pressure regulators work?
As aforementioned, there are 3 basic elements that will determine the regulator's accuracy and efficiency performance wise. These include:
[pif_accordion]
[pif_spoiler title=" Loading Mechanism
" style="fancy"] This provides the means in which the operator can set the force which determines the outlet control pressure.[/pif_spoiler]
[pif_spoiler title=" Sensing Element
" style="fancy"] This senses the changes in outlet pressure, allowing the regulator to react accordingly.[/pif_spoiler]
[pif_spoiler title=" Control Element" style="fancy"] This control element acts to reduce the inlet pressure to a lower working pressure. It further maintains it by decreasing/increasing the orifice area by moving away or towards the seat.[/pif_spoiler]
[/pif_accordion]
When to use a back pressure regulator?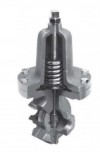 There are various types of back pressure regulator including:
[pif_accordion]
[pif_spoiler title="Spring load" style="fancy"] This is the most common loading device- it's dependable, has a simple design, it's relatively small and it's cost-effective.
Disadvantages include that it's susceptible to the effects of shock, vibration and temperature[/pif_spoiler]
[pif_spoiler title="Dome load" style="fancy"] So instead of a spring, pressure in the dome area is used to provide the loading force. It has a faster response to pressure changes and it enables remote pressure control to adjust pressure at a safe distance, away from hazardous conditions. However, it does require two regulators which means increased costs and more space for installation.[/pif_spoiler]
[pif_spoiler title=" Air load" style="fancy"] This is quite similar to dome load but has a ratio greater than 1:1 between the pilot pressure and the control pressure. Also, only inert gas can be used to pilot the regulator.
Advantages include that it enables remote pressure control at a safe distance as aforementioned, as well as uses low pressure inert gas; and it has low pressure drop under dynamic conditions.
But again, it requires two regulators.[/pif_spoiler]
[pif_spoiler title=" Spring and dome load " style="fancy"] This hybrid regulator uses a combination of spring and dome loading. These are especially useful in commercial diving, autoclave, oil exploration and laboratory applications however, a key disadvantage is that it is more expensive than any of the other regulator types.[/pif_spoiler]
[/pif_accordion]
Why use back pressure regulators?
In terms of efficiency, it is much more accurate than a relief valve.
Most direct spring operated safety relief valves have a high reseating pressure. This means they're inconsistent and unreliable.
Safety relief valves are designed to protect downstream personnel and equipment should over-pressurisation take place. So when it's set pressure is overcome, it will blow wide open immediately and exhaust all of the pressure.
It needs to be able to handle the full flow of the system in order to rapidly exhaust to protect downstream apparatus. A backpressure regulator is not a safety device, it is designed for precision upstream pressure control.
When the regulator set-point is overcome, it will crack open (not blow wide open) and try to exhaust just the excess pressure above the set-point. What's more, if it does cracks open, it uses its sensing element to reseat very close to its original set pressure- relief valves do not have sensing elements.
Company Profile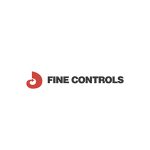 Fine Controls UK Ltd
Fine Controls supply of process controls and instrumentation equipment since 1994, and now serves an ever-expanding customer base, both in the UK and globally.
Get the latest process industry news
Interested in receiving even more industry-leading news from Process Industry Forum delivered directly to your inbox? Then sign up to our free newsletter. Bringing you the latest news, trends, innovations and opinion from across the process industry, our exclusive newsletter gives you all the industry insights of the moment in one, easy-to-digest bulletin. Stay ahead of the competition with regular process industry news instalments from PIF.