Sandvik Coromant's component manufacturing solutions for the Oil and Gas industry
Sandvik Coromant's extensive range of component manufacturing solutions offer the Oil and Gas industry with ample scope to improve tubing hanger production and help address key challenges like vibration, long overhangs and interrupted cuts.
The advantage of Sandvik Coromant solutions
High-performance GC4325 and GC4315 insert grades, for internal and external turning, offer high levels of wear resistance when steel machining. They can also withstand high cutting temperatures and ensure that cutting edges stay in shape for long contact times. Consequently, they help to mitigate against reduced tool life from interrupted cuts when cross-hole and over-hole machining during internal and external turning.
Key Solutions
Combining high-performance inserts with tool holders from the Sandvik Coromant Silent Tools range of dampened boring bars and adapters can result in better surface finishes and increased productivity. Silent Tools help to maintain high metal removal rates and close tolerances by addressing long overhangs and vibration associated with tubing hanger manufacture.
The CoroCut 1-2 patented spring clamping system, with railed insert seat and quick-release key, also presents an attractive proposition for tubing hanger manufacturers. Again, over and under-coolant options are available and, along with smooth insert changes, CoroCut 1-2 ensures good stability and correct clamping force time, and negates the need for a torque wrench.
For the demands of machining deep grooves, and parting off in long overhangs, Sandvik Coromant has also devised the CoroCut QD range of inserts and durable tools. These tools – with over and under-coolant – promise efficient chip evacuation, reduce temperatures and tool wear, and boost stability.
The Coromant Capto modular, universal quick-change tooling concept is another ideal solution for Oil and Gas component manufacturers who are looking to maximise their machine utilisation. Not only can it reduce setup and tool-change time but extension and reduction adapters support the use of tools with different lengths and design characteristics. Thus, the same tools can be used across the entire workshop.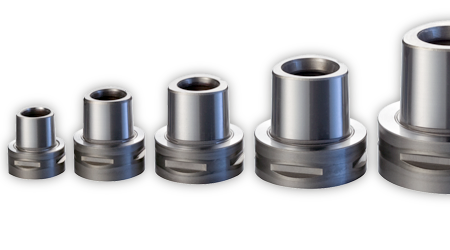 Who are Sandvik Coromant?
Sandvik Coromant is the world's leading supplier of tools, tooling solutions and know-how to the metalworking industry. With extensive investments in research and development they create unique innovations, and set new productivity standards, together with their customers in the major automotive, aerospace and energy industries. The company, which is part of the business area Sandvik Machining Solutions, has 8,000 employees and is represented in 130 countries.
"The need for oil and gas will continue to grow over the next decades, mainly driven by an increasing standard of living in Asia," they say on their official website. "At the same time crude oil production from existing fields will drop over two-thirds by 2035, and must be replaced by new findings.
"These facts indicate that there will be a strong need for products for the oil and gas industry over a long period of time to come. Trends are that more exotic materials are being used in the components, such as inconel, super-duplex etc and this trend will most likely increase.
The oil and gas components are also getting larger and the demands are getting higher, increased surface finish is one example.
For more information visit www.sandvik.coromant.com.
Company Profile
Sandvik Coromant
Sandvik Coromant is the world's leading supplier of tools, tooling solutions and know-how to the metalworking industry.
Get the latest process industry news
Interested in receiving even more industry-leading news from Process Industry Forum delivered directly to your inbox? Then sign up to our free newsletter. Bringing you the latest news, trends, innovations and opinion from across the process industry, our exclusive newsletter gives you all the industry insights of the moment in one, easy-to-digest bulletin. Stay ahead of the competition with regular process industry news instalments from PIF.