Rubber gasket manufacturing explained
Martin's Rubber Company have been producing exceptional industrial rubber products for generations. In this article, they give us an in-depth explanation of how rubber gaskets are manufactured, detailing common production techniques used in the process.
Gasket manufacturing involves the complete spectrum of punching and cutting techniques. Here's a whistle-stop tour of the the various techniques that go into bringing a rubber gasket into production.
Punching
Established in the 1800's, rubber gasket punching is a traditional process involving a Rule Forme. This is a special steel strip bent into the desired shape with the bottom edge sharpened into a blade. A hydraulic or power press forces this through a sheet of material and into a sacrificial cutting board below. This technique was originally popular within the shoe manufacturing industry in times gone by.
Rule Formes are either one-piece forgings for extended production runs, or bent Rules set in plywood backing sheets for rapid production. The beauty of them is that the resulting shape punched out of the parent material is repeatable and always consistently sized. Semi-automated machinery makes it possible to punch out either low or high volume parts.
While kiss-cutting helps to produce reels of parts, which can often be a convenient way of handling small punched parts. It is also possible to source off-the-peg flange and joint gaskets.
Water Jet Cutting
For a quick run of rubber gasket shapes, water jet cutting is sometimes preferred over punching. Basically, an extremely high pressure jet of water (approximately 0.1mm diameter) is blown through a sheet of parent material to cut the desired shape. This technique allows soft or hard, solid or cellular materials to be cut into an infinite variety of shapes quickly and without the deformation often found in punching methods.
Laser Cutting
This a similar process to water jetting. However, as the name suggests, it's no longer a water jet that provides the cutting mechanism but rather a laser. This technique offers similar benefits and the only really difference from a manufacturing perspective is contending with a flammability risk, as opposed to potential wetting problems!
Hand Cutting
Hand cutting might be one of the oldest techniques in the gasket manufacturer's armoury but it's still by far one of the most reliable. Every day Martin's Rubber is called upon to hand-mark shapes in sheet material. This gasket manufacturing process uses knives and saddle punches to create special or large gaskets.
Strip Cutting
When gasket manufacturers are strip cutting rubber gaskets, they use a rotary knife that press cuts long sheets of material into strip form. It sweeps over the parent material, using a series of circular rotation knives, and the distance between the blades determines the width of the final strip.
Last, but by no means least, highly skilled finishers trim, finish and package your rubber gasket to the standards of excellence that you'd expect throughout the manufacturing process.
Contact Martin's Rubber Company today on 023 8022 6330, or email sales@martins-rubber.co.uk, for more information about all our rubber manufacturing services and products.
Company Profile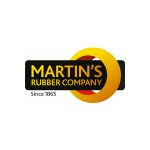 Martins Rubber Company
Martins Rubber are a rubber manufacturer who specialise in the production and supply of elastomeric products.
Get the latest process industry news
Interested in receiving even more industry-leading news from Process Industry Forum delivered directly to your inbox? Then sign up to our free newsletter. Bringing you the latest news, trends, innovations and opinion from across the process industry, our exclusive newsletter gives you all the industry insights of the moment in one, easy-to-digest bulletin. Stay ahead of the competition with regular process industry news instalments from PIF.