The PREROSTAL pumping System for automatic flow matching & self-cleaning
Hidrostal invented the Screw Centrifugal Impeller 50 years ago and have been totally dedicated to the continuous development and improvement of their pump ever since. This has allowed them to develop a whole family of pumps with variations of the screw centrifugal impeller to solve specific pumping problems.
One extremely innovative pumping system is the PREROSTAL™ System.
What is the PREROSTAL System?
The PREROSTAL System is a unique pumping system developed by Hidrostal that provides the user with:
1. A method of matching pump outflow to pump station inflow without the need for any additional items of moving plant or additional electrical equipment such as inverter drives
2. A highly effective sump cleaning system without the need for any additional items of moving plant.
It is a simple and economical solution for handling variable flow applications with large or troublesome solids that really does work!

The PREROSTAL system is a proven alternative to Archimedean screw pumps and variable frequency drives and is ideal for automatic flow matching and skimming of floating material.
How does the PREROSTAL system work?
At heart of the PREROSTAL system is the Hidrostal pump with its unique screw centrifugal impeller.
Extremely versatile in its applications, the impeller provides efficient handling of a range of liquids, often highly abrasive or corrosive in nature. It is ideal for:
Solids Handling
Pumping Viscous Sludges
Handling Delicate or Low Shear Products
Unique to all Hidrostal pumps is the ability to handle the above in combination.
Watch Hidrostal Pump Expert Andy Wilson demonstrate the PREROSTAL System
Typical Applications for PREROSTAL self-cleaning pumping system:
Sewage Inlet and storm pumping stations
Activated sludge pump stations
Oily water pump stations
Wash down systems
Pump sumps with a high fat and grease inflow
Pump sumps with floating materials
Pump stations where stored volume is limited
Where a shallow construction is a benefit
Interested in Self-Cleaning sumps?
The PreroClean Self Cleaning Sump is a simplified version of the PREROSTAL and is designed for applications where the primary aim is maintaining clean sumps without the need for flow matching. This option works on the same principles as the PREROSTAL but the weir height and tangential channel dimensions are fixed for each pump size allowing these features and the basin to be moulded into a single-piece, simplifying the civil construction.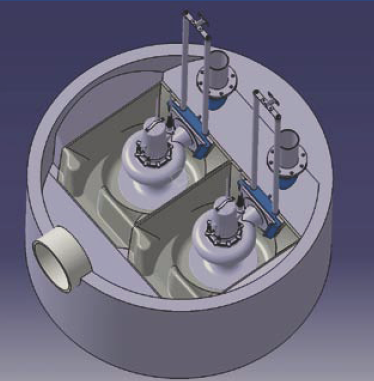 In conclusion, if you are looking for automatic flow matching or self-cleaning sumps for your pumping applications, Hidrostal's unique and innovative pumping systems are for you.
Company Profile
Hidrostal
Hidrostal Ltd is the 100% Swiss owned subsidiary of the family run global business Hidrostal AG Switzerland, the inventors of the screw centrifugal pump in 1957. Since then we have been solely dedicated to its continual development and improvement.
Get the latest process industry news
Interested in receiving even more industry-leading news from Process Industry Forum delivered directly to your inbox? Then sign up to our free newsletter. Bringing you the latest news, trends, innovations and opinion from across the process industry, our exclusive newsletter gives you all the industry insights of the moment in one, easy-to-digest bulletin. Stay ahead of the competition with regular process industry news instalments from PIF.