Martin's Rubber explains how prototype rubber moulding works
As in many industries and processes throughout the world, producing a prototype and trialling and testing its strength, visual attributes and predicted performance is an important aspect of production and development. Prototyping is a crucial link in the development chain.
Prototyping in rubber offers insights into the potential performance of a given design in the real world. In this article, Process Industry Forum spoke to Martin's Rubber to find out more about how the prototype rubber moulding process works.
What is prototyping in rubber production?
A prototype can be defined as an early example, design, or sample of a product or idea that has been produced to test the concept. Prototypes are often used in a variety of industries, such as automotive and aerospace, in order to develop a sample of the end product.
By doing this at the conceptual stage, you are provided with the opportunity to test the effectiveness and functionality of a given design, delivering important time- and cost-effective savings prior to launching into full production.
How important is prototyping in rubber?
As Martin's Rubber explains, by prototyping parts from a particular rubber, such as silicone, you are given the opportunity to trail a material type before the production tooling is produced.
In order to reduce expensive errors and potential reworks further down the line once in full production, by utilising a prototype process you will be given a deeper understanding of the likely performance. This qualifies the importance and advantages of prototyping in rubber moulding, as it mitigates the risk of costly re-designs and speeds up the development and testing process.
Prototype rubber molding? How does it work
When PIF spoke to Claire Clarke from Martin's Rubber, she explained how they carry out the process. "Before we even begin to produce a prototype rubber moulding, our experts are able to utilise non-linear finite element analysis to assess how a particular design of component is likely to perform in situ."
Claire went on to explain that "through this process, we are able to provide our customers with a breath of data which allows us to offer design change recommendations and allows them to make an informed decision based upon likely performance before committing to a final design." Claire explains how this process allows all parties involved to save a considerable amount of time, money, and wasted effort.
However, when we approached the topic of a physical prototype, Claire told us how Martin's Rubber is able to deliver on this too. "We can manufacture a small pre-production batch of a design using a low-volume tool. We can make an aluminium tool with one cavity and produce a product in the actual material that the customer has opted for." She explained how "alternatively, the advent of 3D printing (or additive manufacturing) allows for new opportunities for Rapid Prototyping as new resin-based prototypes can be produced quickly. The performance wouldn't be true to the final product, but in terms of fit and appearance it could be."
Prototype rubber moulding products from Martin's Rubber
Martin's Rubber are experts in the design, development, and manufacture of cost-effective rubber moulding solutions. They are talented and experienced in handling low volume specialist orders requiring custom prototype rubber mouldings and purpose-built projects. They can also produce prototype products in a range of sizes and weights, using their advanced production facilities, such as injection moulding and compression moulding machines.
Get in touch with the Martin's Rubber technical team today to find out more about their prototyping services for rubber moulding.
Company Profile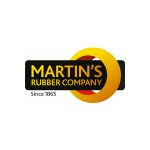 Martins Rubber Company
Martins Rubber are a rubber manufacturer who specialise in the production and supply of elastomeric products.
Get the latest process industry news
Interested in receiving even more industry-leading news from Process Industry Forum delivered directly to your inbox? Then sign up to our free newsletter. Bringing you the latest news, trends, innovations and opinion from across the process industry, our exclusive newsletter gives you all the industry insights of the moment in one, easy-to-digest bulletin. Stay ahead of the competition with regular process industry news instalments from PIF.