Investigating the sustainability of rubber
In this informative article, PIF spoke with rubber engineering specialists Martin's Rubber about their Research and Development process, and how this ties into the Devulc02 and RAPRA Remould project they recently took part in.
Founded in 1865, Martin's Rubber are specialists in industrial rubber and engineered plastic products; supplying many industries around the world. Martin's Rubber has invested both time and money into discovering the sustainability of rubber and how to ensure that the products they produce are as sustainable as possible.
What is the RAPRA Remould project?
"The RAPRA Remould project was a study into how a process could be developed to ensure the continuous production of high-quality re-processable rubber", explains Claire Clarke of Martin's Rubber. Claire goes on to explain that the RAPRA Remould project focuses on the understanding of how to produce high-quality re-processable rubber using recycled vulcanised rubber, including; nitrile, SBR and EPDM. "This project required investigation into the sustainability of rubber, and our primary aim was to develop the de-vulcanised tyre rubber needed for the re-treading of passenger and truck tyres", explains Claire.
This project delivered significant potential economic benefits to rubber compounders and moulders, whilst also presenting very real environmental benefits by reducing otherwise non-biodegradable tyre waste.
What is the RAPRA DevulC02 project?
"Martin's Rubber also supported the DevulC02 project", explains Claire "which similarly researched the devulcanisation of end-of-life rubber". The devulcanisation of rubber is a process in which the polymer attributes of the vulcanisation of rubber are reversed. Put simply, vulcanisation the process by which rubber is converted into a more durable material; making rubber suitable for every day, consistent use. By devulcanisating rubber, this reverses this impact to make it easier to repurpose and recycle rubber.
Claire notes that the motivation for this project came from a legal ruling in 2006 that stated any used tyres cannot be placed into landfill sites throughout the European Union. Therefore, RAPRA DevulC02 aimed to look into the feasibility of using devulcanised rubber as a raw material replacement for virgin rubber in the manufacture of rubber products.
Investing in sustainable rubber production
"Research and Development is the cornerstone of our manufacturing process", states Claire. "We take a huge amount of pride in the quality of our Research and Development process, and the steps we take to improve the production of rubber products for a more sustainable world."
Research and Development
"Martin's Rubber are proud to offer research and development services to our customers, to assist them in producing a range of bespoke customer products", explains Claire.
To find out more about how Martin's Rubber can help you, head over to their company profile now.
Company Profile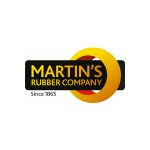 Martins Rubber Company
Martins Rubber are a rubber manufacturer who specialise in the production and supply of elastomeric products.
Get the latest process industry news
Interested in receiving even more industry-leading news from Process Industry Forum delivered directly to your inbox? Then sign up to our free newsletter. Bringing you the latest news, trends, innovations and opinion from across the process industry, our exclusive newsletter gives you all the industry insights of the moment in one, easy-to-digest bulletin. Stay ahead of the competition with regular process industry news instalments from PIF.