Different types of pressure switches
In its simplest form, a pressure switch is a device capable of detecting a pressure change and, at a predetermined level, opening or closing an electrical contact. In this article Barksdale explores their evolution, from electromechanical varieties, through to the revolutionary solid-state version and today's cutting edge electronic pressure switches, like the BPS3000.
Pressure switches fall under three basic classifications: electromechanical, solid state and electronic. Traditionally, pressure switches have been electromechanical devices. Today, however, inroads into this fairly ancient technology are being made by solid-state devices and the new breed of electronic pressure switches, such as Barksdale's BPS3000.
Electromechanical Pressure Switches
The most common electromechanical pressure switches are composed of a sensing element and an electrical snap-action switch. A number of different types of sensing elements can be used but they have one thing in common: they move in response to changes in the system pressure. Through their movement they directly act on the opening and closing of the snap-action switch's contacts.
Differential pressure switches are slightly different. There are two pressure ports, one for the low pressure side and the other for the high pressure side. The low pressure and high pressure fluids act on the same sensing element. Since the surface areas are equal on each side, the switch is in equilibrium when the pressures are equal. As pressure on the high-pressure side increases, or pressure on the low side decreases, the piston moves up and, at a preset differential pressure, activates the snap switch.
Switches are commonly grouped together based on the type of sensor technology employed. The characteristics of the sensor tend to define the relative accuracy and life one can expect from the switch.
Typical switch categories
Diaphragm Switches: use a weld-sealed metal diaphragm which directly acts on a snap-action switch.
Pressure up to 10.43 bar and vacuum.
Repeatability ±1%.
Low cycle rates (less than 25 cycles/min).
Bourdon Tube Switches: a weld-sealed bourdon tube is used to actuate the snap-action switch.
Pressure from 3.45 to 1241.06 bar.
Repeatability ±1%.
Low cycle rates (less than 25 cycles/min).
Diaphragm Piston (Dia-Seal Piston) Switches: an elastomeric diaphragm acting on a piston which in turn
actuates the snap-action switch.
Pressure from vacuum to 110.32 psi.
Repeatability ±2%
2.5 million cycles.
Piston Switches: an O-ring sealed piston acts directly on the snap-action switch.
Pressure to 827.37 bar.
Repeatability ±2%
2.5 million cycles.
Solid-State Pressure Switches
In 1980, Barksdale introduced the first solid-state pressure switch. It was a simple device which combined a bonded strain gage sensor and triac switch. Today, there are a wide variety of solid-state pressure switches that have one to four or more switch points, digital displays, analog and digital outputs, and full programmability.
In many cases they cross the line from being simply a switch to an open-loop controller. In addition to opening or closing the pressure switch circuit(s), they provide a proportional analog 4-20 mA signal or digital output. The analog signal can interface with PLCs (Programmable Logic Controls), DCSs (Distributed Control Systems) and computers. The major advantage lies in cycle life. Solid-state switches routinely have an operational life of 100 million cycles.
Solid-state pressure switches provide a number of advantages over electromechanical switches, including:
Much longer cycle life.
Improved accuracy to ±0.5%.
High resistance to shock and vibration.
The ability to handle a wide range of system pressures.
Broad frequency response.
Excellent long-term stability.
BPS3000 Electronic Dual Pressure Switch
A quarter of a century after pioneering the solid-state pressure switch, Barksdale has introduced the next game-changer: the BPS3000 Electronic Dual Pressure Switch. This digital pressure switch represents the next step in the pressure switch evolution and features some truly impressive attributes.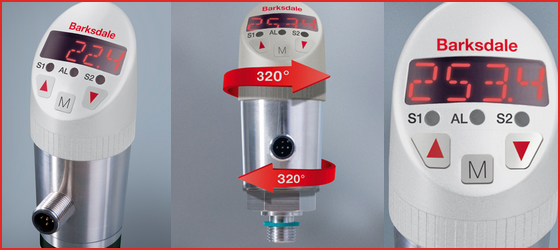 Measuring range: gauge: 0 - 9000 psig, absolute: 0 - 150 psia.
Enclosure Rating: Type 4X (IP65) / Type 6 (IP67).
Measuring ranges: 0...0.2 bar to 0...600 bar gauge (switchable to psi + Mpa).
Suitable for indoor or outdoor usage.
Max. 2 switch points.
Analogue output 4 - 20 mA or 0 - 10 V.
Rotatable 320° display & electrical connection.
Menu navigation refers to VDMA standard.
For more information about Barksdale's full range of switch products please contact 01256 799721 or visit www.barksdale.co.uk.
Company Profile
Barksdale Control Products
Barksdale is an ISO 9001 registered manufacturer of controls for industrial applications, specialising in the control and measurement of fluids. Founded in 1949, Barksdale is headquartered in Los Angeles, with a UK office in Hampshire and a manufacturing facility in Germany.
Get the latest process industry news
Interested in receiving even more industry-leading news from Process Industry Forum delivered directly to your inbox? Then sign up to our free newsletter. Bringing you the latest news, trends, innovations and opinion from across the process industry, our exclusive newsletter gives you all the industry insights of the moment in one, easy-to-digest bulletin. Stay ahead of the competition with regular process industry news instalments from PIF.