What is the calorimetric measuring principle?
When discussing flow sensor technology, you will often hear about the calorimetric measuring principle. Not only does this principle enable effective monitoring of flow velocity but it also makes it possible to determine media pressure. But, the question is, how does it all work?
In this article, leading sensor and measurement device specialists, Baumer, explain what the calorimetric measuring principle is. They also discuss how they use it within their FlexFlow flow sensor technology to support markets where hygiene is essential.
The calorimetric measuring principle and how it works?
Based on the physical laws of thermal conduction and transfer, the calorimetric measuring principle applies specifically to the transfer of liquids and gases. Under this principle, two sensors monitor the transformation of heat to determine the flow rate of media within a pipeline.
This is achievable regardless of media characteristics such as electrical conductivity, viscosity, and density.
During the process of calorimetric measuring, the temperature of the media can also be recorded. The process is reliant on the cooling of a heated sensor by the liquid that flows around it. The mass of this media is directly responsible for the degree to which the sensor is cooled. Before this takes place, the body of media with the highest temperature must release energy in the form of heat. The amount of energy released is dependent on the temperature difference and the mass flow rate.
Benefits of FlexFlow calorimetric flow sensor
Baumer's FlexFlow family has been developed on the calorimetric measuring principle discussed above and therefore has the capability to monitor both flow velocity and media temperature.
They are also built with the factory of tomorrow in mind, as both sensors are IO-link capable with multiple switch versions available.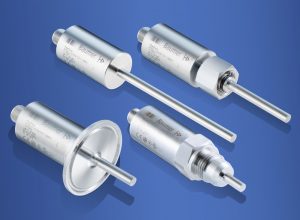 This family of calorimetric flow sensors (pictured left) are well suited to industrial applications where hygiene is a critical factor. Offering reduced measuring points in closed systems, the FlexFlow offers significant cost benefits, with savings available on installation, servicing, and storage. They are also centred symmetrically by design, enabling optimal installation that is independent of their position or orientation. This enables precise measurements, whilst maintaining process safety.
The capability for IO-link connectivity means that multiple sensors can be configured at the same time, with switching point adjustment simplified for the various stages of the process. This saves on time, as does the diagnostic data polling and evaluation, which increases system uptime. The integrated electronics and evaluation unit are protected by a robust housing made from stainless steel, with no wiring or additional user interfaces necessary. These devices are also highly temperature resistant and capable for use in CIP and SIP cleaning processes.
What applications does it serve?
Sensors following the calorimetric measuring principle are suitable for monitoring fluids in controlled closed systems. Here are just some examples of applications that benefit from their use:
CIP processes
Dry run pump protection
Cooling circuits
Spray jet in cleaning machines
Bottle and component cleaning applications
Tool Cooling
For more information on the FlexFlow calorimetric flow sensor devices or any of their other products visit the Baumer website.
Company Profile
Baumer
The Baumer Group is leading at international level in the development and production of sensors, shaft encoders, measuring instruments as well as components for automatic image processing.
Get the latest process industry news
Interested in receiving even more industry-leading news from Process Industry Forum delivered directly to your inbox? Then sign up to our free newsletter. Bringing you the latest news, trends, innovations and opinion from across the process industry, our exclusive newsletter gives you all the industry insights of the moment in one, easy-to-digest bulletin. Stay ahead of the competition with regular process industry news instalments from PIF.