Cable duct seals to prevent ingress of water & hazardous gas in water applications
An uninterrupted electricity supply is essential for the continued operation of substations powering waste water treatment plants (WWTP's). Electrical power supply can be threatened by several factors – some can be eliminated, some mitigated against but others are out of our control.
One natural threat is the British weather. The Met Office confirms in 2014, the UK had the wettest winter since national records began in 1910 - 517.6mm of winter rainfall fell. Separate weather records available for England and Wales confirm the heaviest rainfall since they were started in 1766.
Water and electricity do not mix – flood damaged substations, due to ineffective cable sealing, can result in power outages and cause serious disruption to consumers, businesses and industry.
Although we cannot control the weather, we can contain the flood.
CSD RISE Cable Duct Seals for Water Utilities
CSD RISE cable duct seals are simple, fast and safe to install providing an effective cable seal against water ingress (2.5 bar pressure), gas migration and fire spread (4 hour rating) into electrical substations in the water utility industry.
CSD RISE cable duct seals provide assured long term protection of water utility assets with a 50 year accelerated age test – effectively sealing substation cables against flood water dangers. Furthermore, the CSD RISE cable seal resists gases including methane, hydrogen sulphide (H2S) and chlorine.
The CSD RISE system effectively seals single or multiple cables entering vertical or horizontal cable ducts.
CSD RISE duct seals replace polyurethane expanding foam for compliance with DSEAR regulations and the requirement for gas tight seals - expanding foam should not be used for critical applications where duct sealing is required to prevent the ingress of harmful or flammable gases, liquids or smoke.
How does CSD RISE Cable Duct Seals work?
CSD RISE is a simple 2 part seal. The elasticity and high bonding strength of the FIWA sealant guarantees a flexible cable seal resistant to movement, shock, pressure and vibration. The RISE rubber insert sleeves are applied to guarantee cable separation and as a backing for the application of the FIWA sealant.
Watch : CSD RISE Cable Duct Sealing – Installation Guide
CSD RISE cable duct seal are both in accordance with WIMES and DSEAR regulations.
WIMES
The Water Industry Mechanical and Electrical Specifications (WIMES) define the requirements for mechanical and electrical equipment used in the UK Water Industry. The WIMES specifications take the form of descriptive text coupled with data sheets.
The WIMES documents have been produced with the co-operation and approval of Anglian Water, Bristol Water, Cambridge Water, Dwr Cymru (Welsh Water), Northern Ireland Water, Northumbrian Water, Scottish Water, Severn Trent Water, South West Water, Southern Water, Thames Water, United Utilities, Veolia Water, Wessex Water, Yorkshire Water.
Due to WIMES approval, CSD RISE duct seals are in service at Thames Water, Scottish Water, Yorkshire Water, South West Water, Southern Water, Severn Trent Water, Northumbria Water and United Utilities.
DSEAR
The Dangerous Substances and Explosive Atmospheres (DSEAR) Regulations 2002 are concerned with protection against risks from fire, explosion and similar events arising from dangerous substances used or present in the workplace. 6,00 sites across Thames Water utility network successfully installed 3,000+ cable and pipe duct seals as part of their 2010-2011 DSEAR maintenance programme.
T&D, the largest UK distributor for CSD Sealing Systems, are currently supplying the RISE system to Beckton Sewage Treatment Plant as part of a £190m Thames Water upgrade. Beckton STW is one of Europe's largest sewage treatment works and currently serves 3.5 million people.
CSD RISE Seals were specified by Thames Water to provide water and gas tight cable seals due to their ability to seal both horizontal and vertical ducts up to 250mm in accordance with both WIMES and DSEAR regulations.
We would like to hear your thoughts if you have used this solution within your applications? For further information about the product visit here
Company Profile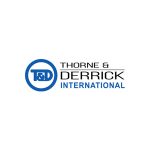 Thorne And Derrick
Thorne & Derrick are national distributors and worldwide exporters of LV-HV Cable Installation, Cable Jointing, Hazardous Area & Electrical Equipment
Get the latest process industry news
Interested in receiving even more industry-leading news from Process Industry Forum delivered directly to your inbox? Then sign up to our free newsletter. Bringing you the latest news, trends, innovations and opinion from across the process industry, our exclusive newsletter gives you all the industry insights of the moment in one, easy-to-digest bulletin. Stay ahead of the competition with regular process industry news instalments from PIF.