A Guide to Rubber Moulding Techniques from Martin's Rubber
Rubber moulding involves a lot of intricacies, with compression and transfer moulding techniques. In this article, we speak to rubber moulding experts, Martin's Rubber to get a detailed overview of the main rubber moulding techniques they use and explore these techniques in-depth.
The process of injection moulding
The process of rubber injection moulding forces a precise amount of rubber from a tube or cylinder into a closed, heated mould. With the ability to provide a wide selection of rubber injection moulding machines, with up to a 1-litre capacity and a clamping force of 220 tonnes, Martin's Rubber can provide injection moulding that is suitable for both rubber or plastic. The only difference for this process is that rubber is heated during the injection process and requires more pressure in the clamping process.
What are the benefits of injection moulding rubber?
- Injection rubber moulding is cost-effective for higher quantities
- Injection moulding techniques produce very little waste on long runs
- The manufactured parts will not require trimming work
- Injection rubber moulding produces consistent and accurate goods
- Cycle times can be quicker than other techniques
- Tight dimensional tolerances can be achieved
- Injection rubber moulding achieves low flash levels
- Injection rubber moulding is ideal for large volumes of small to medium parts.
What is transfer moulding?
Like injection moulding, transfer moulding also provides accuracy and consistency of moulded products; however, it is more likely to be used for shorter runs. As a result of this, it avoids the potential costs associated with full injection tooling.
The transfer moulding process beings with the raw materials being prepared as 'pre-forms' that are loaded into a pot internal to the mould tool. An integral plunger then compresses the rubber in the pot so it is forced through holes into the product cavity to fill it in as an injection machine would.
What are the benefits of transfer moulding?
- Transfer moulding is more consistent and accurate than compression moulding
- Tighter dimensional tolerances
- Shorter production cycles for heavy parts
- Transfer moulding has a shorter lead time than injection moulding
What is compression moulding?
Martin's Rubber explains that compression moulding involves taking a rubber compound and making a pre-form that is the same shape, but a slightly bigger version, of the end product. Martin's Rubber has various compression moulding machines, ranging from 5 tonnes to 500 tonnes.
The process of compression moulding starts by loading the shape and closing the mould, which is heated by the press platens. The excess rubber is then vented from the cavity; along with air, under the compression force of the press, then held closed by the press whilst the rubber is cured. When the press is opened, the tool can be split and the part de-moulded.
What are the benefits of compression moulding?
- Reduced waste
- Capacity to process stiff, higher durometer materials
- More cost-effective than transfer or injection moulding
- Best suited to manufacturing smaller quantities and for products that require a long cure time
- Ideal for parts with large cross-sections.
Choosing the best rubber moulding technique for your manufacturing process
To find out more about the rubber moulding techniques that Martin's Rubber can provide, and all of their products and service offerings. Call one of the Martin's Rubber technical experts by calling +44 (0)23 8022 6330 or email [email protected]. Alternatively, visit the Martin's Rubber website.
Company Profile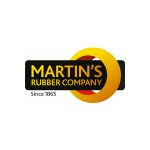 Martins Rubber Company
Martins Rubber are a rubber manufacturer who specialise in the production and supply of elastomeric products.
Get the latest process industry news
Interested in receiving even more industry-leading news from Process Industry Forum delivered directly to your inbox? Then sign up to our free newsletter. Bringing you the latest news, trends, innovations and opinion from across the process industry, our exclusive newsletter gives you all the industry insights of the moment in one, easy-to-digest bulletin. Stay ahead of the competition with regular process industry news instalments from PIF.